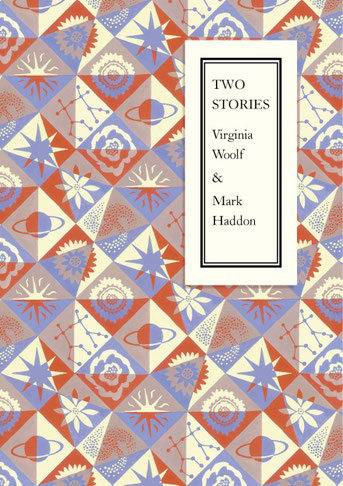 Title: Two stories
Author: Virginia Woolf & Mark Haddon
Imprint: Hogarth
Published: 2017
Synopsis: To celebrate the 100th anniversary of 'Publication No. 1' this new edition of Two Stories takes the original text of Virginia's story, 'The Mark on the Wall' (with illustrations by Dora Carrington), and pairs it with a new story, 'St Brides Bay', by Mark Haddon, a lifelong reader of Virginia Woolf.
TWO STORIES also includes a portrait of Virginia Woolf by Mark Haddon, and a short introduction from the publisher about the founding of the Press. 
book review
One of the books I bought while visiting Hay-on-Wye (the first booktown in the world) is this beautiful edition to mark the centenary of Hogarth Press. It includes Virginia Woolf's first published story, and a commissioned story from prize-winning author Mark Haddon.
Its short introductions shed light on how the Press was born, a project lead by Virginia and her husband Leonard. "Virginia had been taught book-binding in her teens. In 1916 she and Leonard had attempted to sign up for classes at St Bride's School of Printing, but discovered these were for unionised apprentices and not middle-class dilettantes. But they struck lucky in March the following year". They managed to buy a printing machine, type, chases, cases, and all the necessary implements and by July their first couple of stories were finally printed.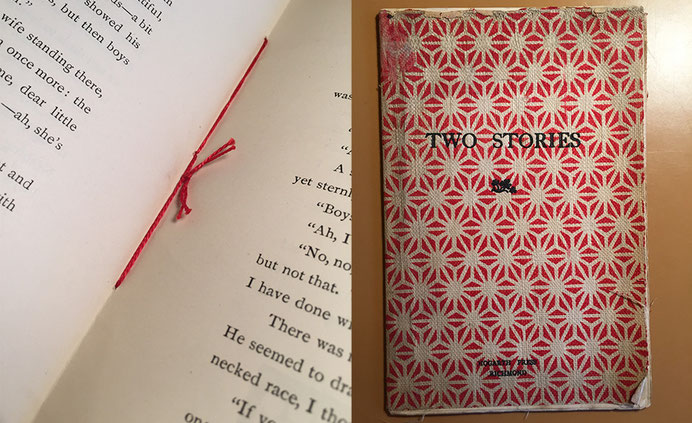 "Dora Carrington travelled to Hogarth House to deliver four commissioned woodcuts in person. […] The Woolfs had tremendous difficulties printing the woodcuts –the blocks were too high and left smudged surrounds- but the images lent a lively, bold Omega style to the pamphlet. The red and white Japanese paper covers were similarly arresting. The thread for binding, also a vivid red, was stab-stitched and knotted by Virginia."
In fact, to celebrate the 100th anniversary of 'Publication No. 1' this book has a red thread of binding too and includes Dora Carrington's original woodcuts (plus a portrait of Virginia Woolf by Mark Haddon). Last but not least, "Two stories" hides a little secret… once you finish the first story it's necessary to turn the book upside down to read the other one, so both end right at the middle of the book.
So let's jump right in, shall we? Woolf's "The mark on the wall" is a whirlwind of chained thoughts: ramblings about society, social classes, unwritten norms, human nature… I found some metaphors difficult to understand (as I believe there are a lot of historical references) but I enjoyed her writing style.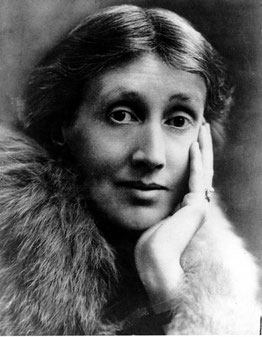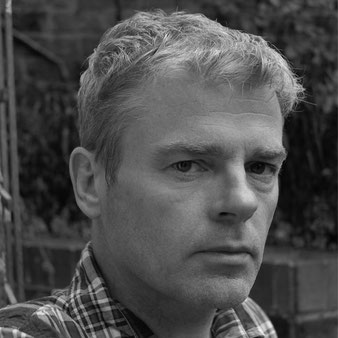 Virginia Woolf & Mark Haddon
p.4 «You never got the future you expected. She'd fought for nuclear disarment and the overthrow of American-backed dictators in Central America. Now it was same-sex marriage and fascism resurgent on the far side of the Atlantic. Was that the source of this deep churning? It doesn't come wearing jackboots. It comes promising gifts for the poor. The fear that it was ending, this brief liberal summer. The old cruelty reasserting itself.»
I enjoyed this little gem, a tribute to the old Hogart Press, now one of the imprints which make up the world's largest publisher, Penguin Random House. Just the publisher says: "The Woolfs understood that publishing is where gut feeling meets good business; we aim to continue that tradition today." 
Mx