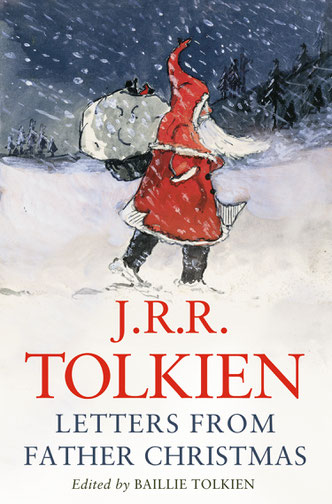 Títle: Letters from Father Christmas
Author: J. R. R. Tolkien
Publisher: HarperCollins
Publication date: 2012
Sinopsis: Every December an envelope bearing a stamp from the North Pole would arrive for J. R. R. Tolkien's children. Inside would be a letter in strange spidery handwriting and a beautiful coloured drawing or some sketches. The letters were from Father Christmas. They told wonderful tales of life at the North Pole.
Sometimes the Polar Bear would scrawl a note, and sometimes Ilbereth the Elf would write in his elegant flowing script, adding yet more life and humour to the stories. From the first note to Tolkien's eldest son in 1920 to the final poignant letter to his daughter in 1943, this book collects all the remarkable letters and pictures in one enchanting edition. No reader, young or old, can fail to be charmed by the inventiveness of Tolkien's Letters from Father Christmas.
ressenya
ast Christmas I couldn't resist buying a little classic I didn't know about. It was during the fifth anniversary of the Young Catalan Readers, on the 28th of December... We were at the Alibri bookstore (one of the bookshops we visited that day), and my eyes were caught by this book among other Christmas-themed stories. I was like… What's this? Tolkie  pretending to be Santa Claus? I had to see it with my own eyes!
And... although I still haven't read Lord of the Rings (I know, I know!) I really enjoyed "Letters from Father Chirstmas". It overflows with love, tenderness and a sense of humour. After reading the book, I think having Tolkien as a father would have probably been pretty cool...
In fact, as I read the letters he wrote to his children on behalf of Father Christmas, I kept thinking of the letters my mother used to write to me during the holidays, where Santa and the Three Kings would give me some clues in the treasure hunts in order to find my presents.
In his letters, Tolkien demystifies some "urban legends" about Santa, laughs at himself, and builds a very special world. In my HarperCollins English edition I can see the original letters and illustrations that came with them, and... how beautiful and full of details! From the envelope with the addresses and stamps, to the decorated letters inside! The characters talk and mock each other on the paper, with different calligraphy styles and grammar mistakes to tell them apart… Father Christmas, the Polar Bear, Ilbereth the Elf…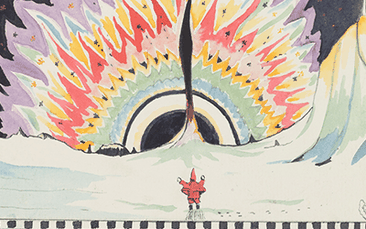 In fact, the most curious thing for me is that, despite being a collection of stories about Father Christmas, it feels a lot like... Tolkien! The world-building (with more and more characters and adventures), the creation of a bard-like long poem, the invention of languages and alphabets, the telling of epic battles between fantastic creatures… Well, I think I made my point.
To sum up... I assure you that you'll find this book a little gem, whether you are fans of the Lord of the Rings or not. Even though John, Michael, Christopher and Priscilla Tolkien progressively stopped writing letters to Father Christmas, he said goodbye to them with lots of love, telling them he would never forget them. He was looking forward to, with time, visiting their own children and telling them the adventures that never end at the very heart of the North Pole...
Mx
---