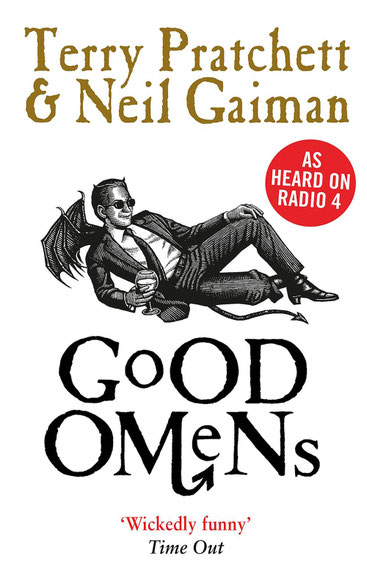 Title: Good omens
Authors: Terry Pratchett and Neil Gaiman
Publisher: Gollancz (UK) / Workman (US)
Publication date: 1990
Synopsis: There is a hint of Armageddon in the air. According to the Nice and Accurate Prophecies of Agnes Nutter, Witch (recorded, thankfully, in 1655, before she blew up her entire village and all its inhabitants, who had gathered to watch her burn), the world will end on a Saturday. Next Saturday, in fact. So the Armies of Good and Evil are massing, the four Bikers of the Apocalypse are revving up their mighty hogs and hitting the road, and the world's last two remaining witchfinders are getting ready to Fight the Good Fight. Atlantis is rising. Frogs are falling. Tempers are flaring, and everything appears to be going to Divine Plan.
Except that a somewhat fussy angel and a fast-living demon are not particularly looking forward to the coming Rapture. They've lived amongst Humanity for millennia, and have grown rather fond of the lifestyle. So if Crowley and Aziraphale are going to stop it from happening, they've got to find and kill the AntiChrist (which is a shame, really, as he's a nice kid). There's just one glitch: someone seems to have misplaced him.
book review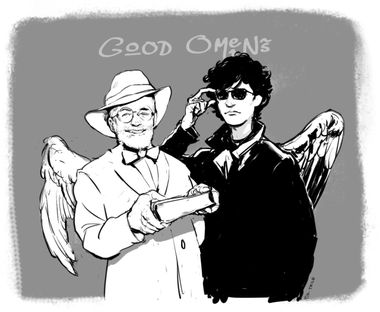 Just as I explained in the introduction to the post "Book vs. Miniseries: Good Omens", I didn't remember a lot aobut the book before watching the miniseries. When I read it for the first time years ago, I don't think the story quite reached me, but after watching the adaptation I loved going back into it.
"Good omens" had to be taken to the big or small screen, because it is a very visual book. It works perfectly, though: Gaiman and Pratchett have so many literary resources up their sleeves (from secondary characters to radio interviews) that make readers perfectly imagine every scene without the need for special effects.
The plot flows and hooks you, as it fluctuates through different points of view, and descriptions are what I like most about the book. Pratchett and Gaiman know how to condense the human nature in very few lines, making a poignant and terrybly up-to-date social criticism at the same time. 
When you finish the novel you're left wanting to know more about all the characters and the adventures that probably await them, but at the same time the authors tie up all the loose ends... even the most ephemeral characters have an ending that will leave you with a smile on your lips.
Personally, my favorites ones are Dog (his evolution is fantastic and it's impossible not to grow fond of him). And also Dick Turpin, Newton Pulsifer's stoic car.... 
Last but not least, my Spanish edition ends with an interview to Terry Pratchett and Neil Gaiman followed by the biographies they wrote for each other mutually, and I must admit they are equally hilarious and touching!
So consider yourself warned: do not let any demon tempt you to read the divine "Good omens"... do it yourself!
Mx
---
---