Títle: Shinrin-Yoku
Language: Spanish, Italian, French, German and Dutch
Author: Annette Lavrijsen
Publisher: Lince Ediciones
Publication date: 2018
Sinopsis: Annette Lavrijsen nos presenta el Shinrin-Yoku, una terapia que nos enseña a aplicar métodos con ejercicios para caminar conscientemen­te por el parque o el bosque más cercano a nuestra casa. En Japón, hay un aforismo muy popular que dice: «El camino a través del bosque conduce a una vida más saluda­ble, más feliz y más productiva». Por eso han convertido los paseos por la naturaleza en una terapia popular para vencer el estrés, el letargo y otras dolencias. En los últimos años, numerosos estudios han demostrado la verdad de esta terapia ancestral que se está convirtiendo en una gran tendencia sa­nadora en los Estados Unidos.
Review
I was recently able to interview the journalist Annette Lavrijsen about her first book, "Shinrin-Yoku", which explores the benefits of this Japanese art (also known as "forest bathing", but no, it has nothing to do with being naked).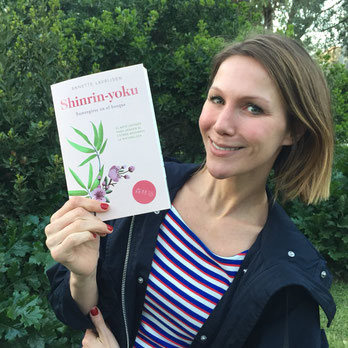 "Shinrin-Yoku is not a therapy with rules where you need to do this and that and then you feel happy and healthy again. For me it's more the philosophical concept of the healing force of nature." Annette told me during our conversation at the Malpaso bookshop in Barcelona.
That is why Annette Lavrijsen's book focuses on showing how contact with nature influences not only our mental health but also our physical health. You can read studies, researches and experiments from around the world and learn more about Eastern beliefs..
"The fact that nature is healing is not something new," Annette added. "It is an ancestral wisdom, and it's also not solely uniquely for Japan or the Far East." In order to prove it, the book contains quotes from very different personalities and their experiences with nature such as: Greek philosophers, oriental masters, movie characters, scientific geniuses ... from Albert Einstein to Bruce Lee, Vincent Van Goh, Frederico Garcia Lorca and even Yoda!
Framed in green, you will also find relaxing exercises that the author suggests for your "forest bathing" sessions. "It's all very easy and approachable because I think it should be for everyone," Annette explained, and I couldn't agree more with her. There are exercises to improve observation, meditation, self-awareness, and even creativity. Not only will they help you relax, but also change your view on yourself and the whole world.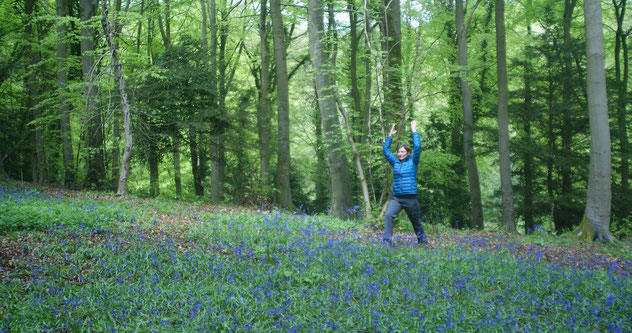 When you finish reading, you may find out how to be more ecological, less dependent on technology, and wiser when it comes to listening to your body and curbing stress before it's too late. In fact, Annette speaks from her own experience. It was during a lonely walk on the island of Tasmania that she realized her work no longer satisfied her.
p. 180 "I feel grateful to nature for helping me to see better, but it is clear that this type of message depends on the person and the moment in which it appears (I assume you mean the message, not the person, appears). If I walked through that forest in Tasmania today, maybe I would find a completely different metaphor, and what you would see on that same path would also be different.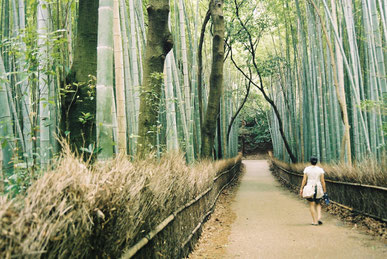 I believe that nature shows us what we need to see at the right moment, and it is up to us to recognize the message. If we are connected to our intuition, the wind will calm down and nature can act as a reflection of the unconscious."
One of the things that make this book special is not only that the author has lived and experienced the results she promulgates, but it is also very easy to relate to her.
You don't need to visit recondite places of the planet to empathize with many other emotional, tender and funny anecdotes from her childhood until today.
The truth is that while reading, I couldn't help but remember the excursions and trips that I enjoyed around Collserola when I was little... and I missed them. Luckily, Barcelona is a very green city, and now that spring awakens, the big roads disappear under the leafy canopies of the trees.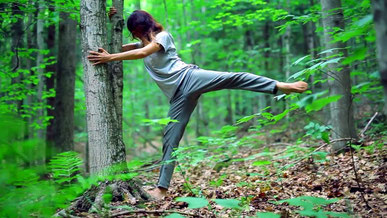 It's clearly preferable to be surrounded by purer and more varied nature, but "even in a city park you can benefit from Shinrin-Yoku" Annette assured me.
Anyway, wherever you go, the book is the ideal size for you to take it with you and, of course, it's made of sustainable paper.
Why should you read it? Maybe you do not share the oriental beliefs that are described here, and no, you do not have to hug trees if you don't want to, but with this book you will learn to reconnect with nature, and even more important... reconnect with yourself.
Mx
---
---